Tile Ram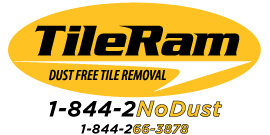 Booth: 1410
Our fast and dust-free tile removal technology means you no longer need to suffer the worst side effect of updating your flooring – uncontrollable dust permeating your home or office building. Our patented process eliminates the need to hang and drape plastic sheeting in a futile effort to contain the dust. Modified high-performance vacuums enable us to remove your unwanted/ outdated tile DUST FREE. When we finish, your home or building is not only free of dust and debris from tile, grout, and thinset, but we leave your floor base undamaged, clean, and ready for whatever new application you have in mind. We will meet or exceed your expectations every time.
Visit our
website
for additional information or call us today to discuss your project and get an estimate. You'll find our prices very reasonable and affordable, and in the end, we'll turn you into yet another of our satisfied customers.
I look forward to speaking with you.
Bryan Irving
Owner, General Contractor
1-844-2NO-DUST (1-844-266-3878)